I am always grateful to Sutter Medical Group's Dr. Briant Smith for his orthopedics teaching, and this week's Grand Rounds was no exception. Dr. Smith reviewed the basics of non-surgical evaluation, diagnosis and treatment of osteoarthritis of the hip and knee, definitely very common conditions seen in primary care!
Here are Dr. Smith's tips:
Examination of the patient with knee pain
Gait: ask patient to walk across the room and back (look for flat feet, among other things)
Alignment: look at legs standing (varus=bow-legged, valgus= knock-kneed)
Range of motion: looking for difference in joint ROM compared to the OTHER knee
Joint line tenderness
Effusion?
Check hips (seated internal rotation-- this is to be sure you are not missing a primary hip problem)
Imaging for a patient with knee pain
X-ray is the imaging modality of choice for osteoarthritis

For knees, always get standing AP views of BOTH knees, lateral view of BOTH knees
For hips, always get images of BOTH hips
Remember, sometimes the xray may be incongruent with the patient's symptoms (e.g. both hips look severe, but patient only has pain on one side)

If you look at the x-ray (ideally look at the image WITH the patient), you are looking to characterize mild-moderate arthritis (some joint space narrowing, small spurs) vs moderate-severe changes (bone on bone, bone sclerosis, sub-chondral cysts)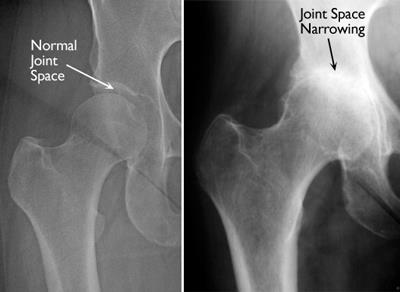 Do NOT order an MRI before an xray because. . .guess what?

If there is evidence of DJD on the xrays, you don't actually NEED an MRI!
You have made the diagnosis and can start the treatment.
What about arthritis and meniscus tears?
All knees with arthritis have meniscus tears
The pain is almost always due to the arthritis, and arthroscopy (meniscectomy) doesn't help, with very rare exception
Treatment of knee and hip arthritis
Don't forget to explain the diagnosis: "you have arthritis in the right knee""

Make the distinction between mild-moderate and mod-severe "You have severe arthritis in your right knee"
Dr. Smith recommends this analogy: The protective coating on the ends of the bones has worn away, like the tread on a tire. You are now on the steel belt (mild-mod arthritis) or the rim (mod-severe arthritis)
What can patients do?
Relative rest/modified activity: many patients love to walk and run, but probably best to switch to swimming and/or stationary cycling (then they can keep up their aerobic exercise)
OTC meds: NSAIDs (if not contraindicated, be sure to check labs, particularly for SCr), acetaminophen, glucosamine, fish oil, CBD. Avoid opiates.
Physical therapy, (it's good idea to do some PT before knee or hip replacement, but remember Medicare only covers 18 visits/year, don't use them all up if a patient is going to get surgery)
Steroid injection: if the injection works and lasts a few months, okay to repeat (up to 4 times/year) for severe pain, but if only helps for a week, then probably not worth it

hips done by radiology at the hospital

Not great evidence for hyaluronic acide injections (costs $500-1000, usually cash)
Knee bracing not indicated, some patients feel more comfortable/supported in a neoprene knee sleeve. This isn't helpful but if it makes them feel better is fine
When is a patient ready for surgery ?
When they are ready.
When you might consider them ready?

If they are having sleep issues due to pain
If they have significantly modified their activity and are missing out on things they would normally enjoy because of their pain

There is no lower or upper limit of age for hip or knee replacements. It's really the severity of the arthritis and their degree of illness/wellness.
Surgical Preoperative Optimization
Anemia, goal Hb>12 reduces transfusion risk (perioperative transfusions actually increase the risk of infection and LOS)
Smoking, goal quit at least 6 weeks before surgery, including ALL nicotine products (nicotine affects wound healing and infection risk)
Diabetes, goal <7.5 (infection risk)
Obesity, goal BMI <30, most surgeons won't operate if BMI>40
Malnutrition (albumin >3,5)
And more!

immune status, hypothyroid, low vitamin D, CV disease, ASA class, opiates, CKD, sleep apnea, psychiatric illness, social factors, deconditioning